What is Silver Diamine Fluoride (SDF)?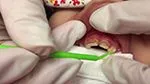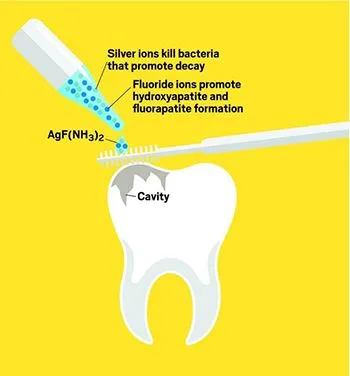 Silver diamine fluoride is a topical medicament (drug) used to treat and prevent dental caries (cavities) and relieve dentinal hypersensitivity. It is a great alternative treatment option for children who are very anxious or simply too young to receive dental treatment. It does not require any numbing injections or removal of tooth structure (drilling).

Silver Diamine Fluoride has been used extensively around the globe for decades.
Provides immediate relief from dentinal hypersensitivity
Kills pathogenic organisms
Hardens softened dentin making it more acid and abrasion resistant
Does not stain sound dentin or enamel
Can provide important clinical feedback due to its potential to stain visible or hidden lesions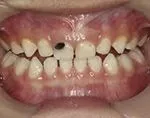 SDF Silver diamine fluoride will stain carious tooth structure a dark brown or black color.

If silver diamine fluoride contacts skin, staining will occur. Staining on skin will fade, like a henna tattoo.
For greater benefit, silver diamine fluoride can be reapplied. Research supports multiple treatments, and caries arrest shouldn't be expected with a single treatment. The standard regimen is two applications, applied at weekly intervals.