Seal Out Decay
A sealant is a protective coating that is applied to the chewing surfaces (grooves) of the back teeth (premolars and molars), where four out of five cavities in children are found. This sealant acts as a barrier to food, plaque and acid, thus protecting the decay-prone areas of the teeth.
| | |
| --- | --- |
| Before Sealant Applied | After Sealant Applied |
Flouride
Fluoride is a naturally occurring element, which has shown to prevent tooth decay by as much as 50-70%, Despite the advantages, too little or too much fluoride can be detrimental to the teeth. With little or no fluoride, the teeth aren't strengthened to help them resist cavities. Excessive fluoride ingestion by young children can lead to dental fluorosis, which is typically a chalky white discoloration (brown in advanced cases) of the permanent teeth. Be sure to follow your pediatric dentist's instructions on suggested fluoride use and possible supplements, if needed.
You can help by using a fluoride toothpaste and only a smear of toothpaste (the size of a grain of rice) to brush the teeth of a child less than 3 years of age. For children 3 to 6 years old, use a "pea-size" amount of toothpaste and perform or assist your child's toothbrushing. Remember that young children do not have the ability to brush their teeth effectively on their own. Children should spit out and not swallow excess toothpaste after brushing, in order to avoid fluorosis.
Mouth Guards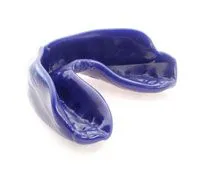 When a child begins to participate in recreational activities and organized sports, injuries can occur. A properly fitted mouth guard, or mouth protector, is an important piece of athletic gear that can help protect your child's smile, and should be used during any activity that could result in a blow to the face or mouth.

Mouth guards help prevent broken teeth, and injuries to the lips, tongue, face or jaw. A properly fitted mouth guard will stay in place while your child is wearing it, making it easy for them to talk and breathe.
Ask your pediatric dentist about custom and store-bought mouth protectors.